Making health equity a reality through research, education, policy and practice

Depaul's Nursing Health Initiative - Working towards Health Equity for People Experiencing Homelessness in Dublin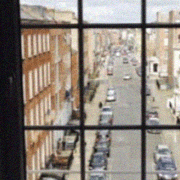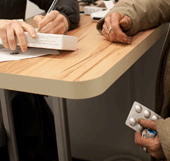 Depaul Nursing Health Initiative
Dublin currently faces one of its worst homelessness crises ever experienced.
Figures from the Dublin Region Homeless Executive reveal that during the last quarter of 2015 there were 3,464 adults in emergency accommodation and in one week in March, 839 families including 1,723 children were in emergency accommodation in the Dublin region.[i]
As a low threshold service, Depaul works with some of the most marginalised people in the homeless population. Our service users have significant health-related issues that have often been exacerbated by periods of rough sleeping. We currently provide a Nursing Health Initiative (NHI) across 3 of our 14 Dublin based services, offering clinics and one-to-one support to our service users.
The NHI provides primary health care services to our service users to address common health problems and increase their access to health care. In 2015 Depaul's two nurses delivered over 1,300 one-to-one nursing consultations to the residents of our services and a total of 2,236 interventions within the Health Initiative. In 2016 in an effort to meet increasing demand Depaul expanded the NHI with the hire of an additional nurse.
Lack of Access to Mainstream Services
Depaul works with a client group with multiple and complex needs. The majority of our service users have substantial health-related issues, often requiring support from primary health, mental health and substance misuse services. Many of our residents have had difficulty accessing mainstream health services and regularly fall through the cracks. Their underlying health needs are often aggravated by periods of street homelessness and alcohol/drug addiction issues. Depaul's Nursing Health Initiative works to ensure that these individuals have the same opportunities to access mainstream healthcare as anybody else. We actively liaise with hospitals, community GPs, addiction services and other agencies to bring these services to our residents.
Harm Reduction Approach
By adopting a non-judgmental, harm reduction approach, Depaul's Nursing Health Initiative works to improve the primary health care access for those most in need. Recognising the negative experiences of homeless people in mainstream health services, and the barriers and stigma that they experience in all areas of their lives, the nurse's role within Depaul is firstly to build relationships with service users.
This requires the nurse to be patient, flexible, encouraging and proactive in the way that we work. Empathy for where a person is at and where they are coming from is paramount as it dictates how receptive the service user might be to the supports available. The nurse learns to build a foundation of trust and respect, to prioritise the service user's most critical healthcare needs and to work with them at their own pace. 'Small Victories' can have major rippling effects.
Health Promotion Initiatives
Depaul's Nursing Health Initiative team provides on-site rapid HCV and HIV testing, STI testing, vaccinations, and cervical checks, as well as annual TB screening and flu vaccination clinics. GP trainees participating in the North Dublin City GP Training Scheme assist us in the delivery of services.
Our nurses and GP trainees have partnered with Safetynet and Homeless Hep Check to provide Hepatitis C screening to 1,000 people in homeless services. The aim is to identify new cases for treatment and provide supports to prevent disengagement. This initiative has allowed our nursing team to offer in-reach Health Promotion Clinics for Hepatitis C screening to over eighty residents, successfully linking ten previously diagnosed individuals back in with treatment services.
By providing mobile clinics within our accommodation services we are able to meet our service users opportunistically, for example in the early morning before they leave the service or in the evening when they come in for the night. This is particularly important with our one-night-only emergency accommodation services, as we may have only one chance to engage. This screening will be offered as a package of services to all new residents as a standard of care.
In September, we partnered with Safetynet and the NHS Find & Treat Clinic, offering rapid access HIV/HCV and TB testing to homeless individuals within three Depaul Services. A mobile unit ran a 2hour clinic outside Depaul's Backlane Hostel and Sundial House, allowing for registration, X-ray, on-the-spot diagnosis and referral for treatment if required. Service users were also offered oral HIV/HCV testing if they had not previously participated with in-house screening programmes.
Of the 123 residents between both sites, 99 residents were offered screening (onsite during the day). There was a 45% uptake of the service. This accounts for 36% of Depaul residents being screened. Many were familiar with the mobile testing service, and were keen to attend, while others may have previously completed screening elsewhere or refused screening. This screening allows us to engage in health promotion conversations at varying levels with some of our most vulnerable residents. It allows for increased engagement and rapid results, as well as the opportunity to promote interventions in substance use/harm reduction, sexual health and vaccination against blood born viruses.
We aim to provide a comprehensive individualised health promotion package to all of our service users, appropriate to their age, gender and specific needs.
Our current focus is on harm reduction and women's health interventions in which we include a Naloxone Pilot Project and CervicalCheck campaigns. Our Community Integration Nurse is working with our partner agency Crosscare in the BRU hostel, providing screening, training and access to Naloxone prescription through Safetynet. She is also working to engage women in this service with the National CervicalCheck programme, bringing this much-needed service to a very hard to reach and mobile population. In Quarter 1 of this year, this service has provided an additional 151 interventions to homeless people living in one-night-only accommodation.
Challenges
Working with a client group whose needs are often multiple and complex and who can be resistant to healthcare interventions can be difficult. Residents do not always engage with mainstream services or attend hospital appointments when referred. This can delay investigations and possible treatment.
Rough sleeping and unstable accommodation result in difficulty accessing care, as appointment cards may not be received and additional supports may not be in place to encourage attendance. Multiple admissions, failure to attend and unplanned discharges further complicate the care plans for these individuals. Keyworkers and outreach workers are essential in coordinating complex care for these individuals, as well as partnerships and understanding from the service providers they so desperately need.
Other challenges include a lack of intermediate step up/step down facility for people well enough to leave hospital but not well enough to return to homelessness or for whom care is required but not at the level of hospital care.
Solutions may include;
Ring-fenced hospital discharge beds to facilitate discharge from hospital when people are not well enough to return to the streets,

Short term/day service interventions such as IV antibiotics, fluids or blood transfusion,

Most importantly, long term beds for the young unwell (under 65 yrs. that require long term nursing care support).
Depaul has been working with St James's Hospital to create pathways for assessing, treating and discharging these complex individuals and understanding the ever-changing needs of our shared populations. Our aim is to provide the best outcomes for our service users through Social Inclusion initiatives and advocacy towards more long-term beds for younger service users with complex health conditions.
The Future: Working Towards Health Equity
Depaul's Nursing Health Initiative will remain committed to providing the highest standards of primary health care for vulnerable people in need. We are constantly assessing the changing needs of the people we have the privilege of working with, to create pathways towards health that best suit each individual.
For further information contact: Jess Sears, Depaul Clinical Nurse Manager, Depaul Nursing Health Initiative. jess.sears@depaulcharity.net
(Uploaded 13.06.16)
By Jess Sears, Clinical Nurse Manager